if you would like further information on how our services can help you and your business.
At OMNI Electrical & Data we strive to service the Gold Coast with quality electricians and data network cablers,  performing electrical and data installations, repairs and maintenance. Our small team of registered cablers and electricians can provide solutions for the majority of your electrical and data needs in the commercial and industrial fields.
We have worked with small to large businesses, shop owners, shopping centres, to large resort accommodation complexes. Our experience and broad knowledge of electrical systems and data network cabling at these sites allows us to provide a complete installation and service package at competitive price.
If you are setting up, moving premises, expanding a factory or have electrical faults that require attention, our electricians are experienced in working with three phase equipment, motors,  machinery electrics and variable speed drives.
Feel confident that OMNI Electrical & Data is fully insured enabling us to work at any commercial or industrial site on the Gold Coast. Safety is also a high priority at OMNI so we employ an Active Safety System. This ensures the safety for our customers, staff and the general public. Our high quality electricians commitment is to service the Gold Coast with a personalised cost effective service. Our aim is to leave you and your business informed and confident in the works that have been carried out.
Commercial Electrical & Data Services
Network cabling
Power
Lighting
Test and Tagging
Schneider Logic Relay
Industrial Electrical & Data Services
3 Phase Power outlets
Variable speed drive installs
Automation
Fault finding
Schneider Logic Relay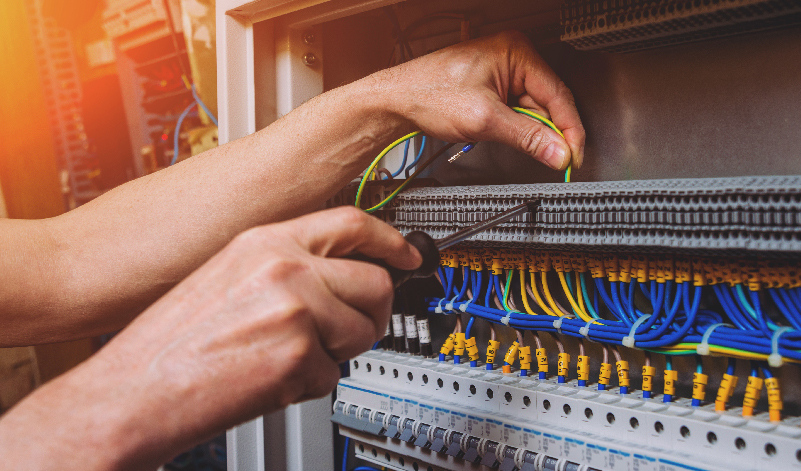 When you require a reliable electrician or registered cabler to assist you in all aspects of the electrical field from test and tagging to structured cabling systems please contact us.